Welcome to basixcertificates.com.au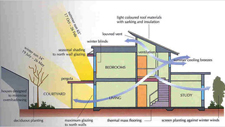 BASIX (Building Sustainability Index) Certificates were introduced by the NSW Government in 2004 as a control tool / mechanism to help reduce the amount of water and energy use in residential dwellings.
All new dwellings, alterations & additions with a construction value of $50,000 or more and pools and spas with a volume greater than 40kl must submit a BASIX Certificate with their Development Application.
Engaging the services of an ABSA (Association of Building Sustainability Assessors) accredited sustainability assessor
Browse through our website to find out exactly what BASIX is all about, when you need one, what it will mean for you and how to go about getting one.